Sistem Perlindungan Indikasi Geografis: Perbandingan Antara Indonesia dan China
Triyono Adi Saputro

Universitas Muhammadiyah Surakarta
Keywords:
indikasi geografis, sistem perlindungan, perbandingan.
Abstract
Persaingan pasar global yang semakin ketat mengharuskan pelaku usaha harus memberikan perlindungan dan jaminan atas karya intelektualnya untuk bisa diterima di pasar internasional. Indonesi dan China merupakan negara anggota world trade organization (WTO) yang sudah lama bergabung dalam meramaikan pasar global. Untuk bisa bersaing dan diterima dalam menghasilkan produk, kedua negara tersebut memiliki sistem perlindungan karya intelektual khusus indikasi geografis yang berbeda. Penulisan ini menganalisa mengenai perbedaan diantara kedua negara tersebut dalam penerapan system perlindungan indikasi geografis dengan metode penelitian normative yang didukung dengan data sekunder serta pendekatan yuridis normative sebagai bahan referensi. Indonesia menganut 2 (dua) system yang terdiri dari sistem konstitutif dan deklaratif, sedangkan China menganut system Merek Dagang dan Sistem SAQSIQ (State Administration of Quality Supervision, Inspection and Quarantine).  Jadi, masing-masing negara memiliki sistem yang berbeda sesuai dengan aturan yang dimiliki dan dikembangkan dengan pedoman yang sama yaitu Perjanjian Trade Related Aspect of intellectually Property right (TRIPs).
References
Asmara, Andre, Sri Walny Rahayu, and Sanusi Bintang. "Studi Kasus Penerapan Prinsip Pendaftaran First To File Pada Pembatalan Merek Cap Mawar (Putusan Mari Nomor: 512 K/PDT.SUS-HKI/2016) Case Study Of The Application Of The Principles Of Registration First To File On Brand Cancellationcap Mawar." Syiah Kuala Law Journal 3, no. 2 (2019): 184–201.
Ayu Pratitis, Sugih, and Andi Putra Sitorus. "Peranan Pemerintah Dalam Meningkatkan Produk Indikasi Geografis Di Indonesia." Jurnal Perspektif Hukum 2 (2021): 264–96.
Bashaw, Bradley M. "Geographical Indications in China: Why Protect GIS with Both Geographical Indications in China: Why Protect GIS with Both, Comment, Geographical Indications in China: Why Protect GIS with Both Trademark and OAC-Type Legislation?, 17 Pac. Rim L & Pol'y." Washington International Law Journal. Vol. 17, 2008.
Chatarina, Arfi Dyah. "Perlindungan Pemilik Merek Pertama Pada Sistem Konstitutif." Hukum Dan Dinamika Masyarakat 16, no. 2 (2019). https://doi.org/10.36356/hdm.v16i2.1010.
Djaja, Hendra. "Perlindungan Indikasi Geografis Pada Produk Lokal Dalam Sistem Perdagangan Internasional." Jurnal Cakrawala Hukum 18, no. Desember (2013): 136–44.
Hidayat, Fitri. "Penerapan Perlindungan Hukum Terhadap Produk Potensi Indikasi Geografis Di Indonesia (the Implementation of Law Protection to Potential Product of Geographical Indication in Indonesia)." Risalah Hukum Fakultas Hukum Unmul 10, no. 1 (2014): 72–83. http://ubicilembu.wordpress.com/2009/08/1.
Irawan, Candra. "Pendaftaran Indikasi Geografis Sebagai Instrumen Perlindungan Hukum Dan Peningkatan Daya Saing Produk Daerah Di Indonesia." In Prosiding Seminar Nasional Multi Disiplin Ilmu Dan Call For Paper UNISBANK, 358–66, 2017. https://doi.org/10.1111/jwip/12073.
Jian, L I U. "Protection and Development of Geographical Indication in China." In Deputy DG, International Cooperation Department, China, 1–29. South Africa, 2019. https://www.aop-igp.ch/fileadmin/Dokumente/AOP-IGP_im_internationalen_Umfeld/BRICS_protecting-GI_12.pdf.
Keyi, Zhang. "An Analysis on Right Boundary of Geographical Indications." In Proceedings of the 2020 5th International Conference on Humanities Science and Society Development (ICHSSD 2020), 30–35, 2020. https://doi.org/10.2991/assehr.k.200727.058.
Made, Ni, and Trisna Dewi. "Perlindungan Hukum Hak Merek Dalam Persaingan Pasar Bebas Di Indonesia." Journal Komunitas Yustisia Universitas Pendidikan Ganesha 4, no. 2 (2021): 397–404.
Margono, Suyud. "PRINSIP DEKLARATIF PENDAFTARAN HAK CIPTA: Kontradiksi Kaedah Penda Aran Ciptaan Dengan Asas Kepemilikan Publikasi Pertama Kali (Declara ve Principle on Copyright Registra on: Contradic on between the Crea on and First Publica on Principle)." Jurnal RechtsVinding 1, no. 2 (2012): 237–55.
Sangiovanni, Carla. "Geographical Indications Under the WTO/TRIPS Agreement (2019) 4 Perth International Law Journal 141." Perth International Law Journal 4, no. 1 (2019): 141–53. https://www.wto.org/english/.
Sudjana, Sudjana. "Implikasi Perlindungan Indikasi Geografis Berdasarkan Undang-Undang Nomor 20 Tahun 2016 Terhadap Pengembangan Ekonomi Lokal." Veritas et Justitia 4, no. 1 (June 28, 2018): 30–58. https://doi.org/10.25123/vej.2915.
Tan, David. "Metode Penelitian Hukum: Mengupas Dan Mengulas Metodologi Dalam Menyelenggarakan Penelitian Hukum." NUSANTARA: Jurnal Ilmu Pengetahuan Sosial 8, no. 8 (2021): 2463–78. https://doi.org/10.31604/jips.v8i8.2021.2463-2478.
Xiaobing, Wang, and Irina Kireeva. "Protection of Geographical Indications in China: Conflicts, Causes and Solutions." The Journal of World Intellectual Property 10, no. 2 (March 2007): 79–96. https://doi.org/10.1111/j.1747-1796.2007.00315.x.
Yessiningrum, Winda Risna. "Perlindungan Hukum Indikasi Geografis Sebagai Bagian Dari Hak Kekayaan Intelektual." Jurnal IUS Kajian Hukum Dan Keadilan III, no. 7 (2015): 42–53.
Yuanhua, Zhu, and Song Wei. "The Development Strategy of Agricultural Geographical Indications in China." Journal of Economics and Sustainable Development Www.Iiste.Org ISSN. Vol. 7. Online, 2016. www.iiste.org.
Yuanhua, Zhu, Song Wei, and Ghulam Nabi. "The Legal Protection of China's Geographical Indications in the Context of TRIPS Agreement." International Journal of Business and Social Science. Vol. 7, 2016. www.ijbssnet.com.
Zheng, Haiyan. "A Unique Type of Cocktail: Protection of Geographical Indications in China." In Geographical Indications at the Crossroads of Trade, Development, and Culture, 380–408. Cambridge University Press, 2017. https://doi.org/10.1017/9781316711002.017.
Zhu, Lanye. "An Analysis of China's System of Protecting Geographical Indications." Asian Journal of Comparative Law 1, no. 1 (January 21, 2006). https://doi.org/10.2202/1932-0205.1010.
Zuhdi Muhdlor, Ahmad. "Perkembangan Metodologi Penelitian." Jurnal Hukum Dan Peradilan 1, no. 2 (2012): 189–206.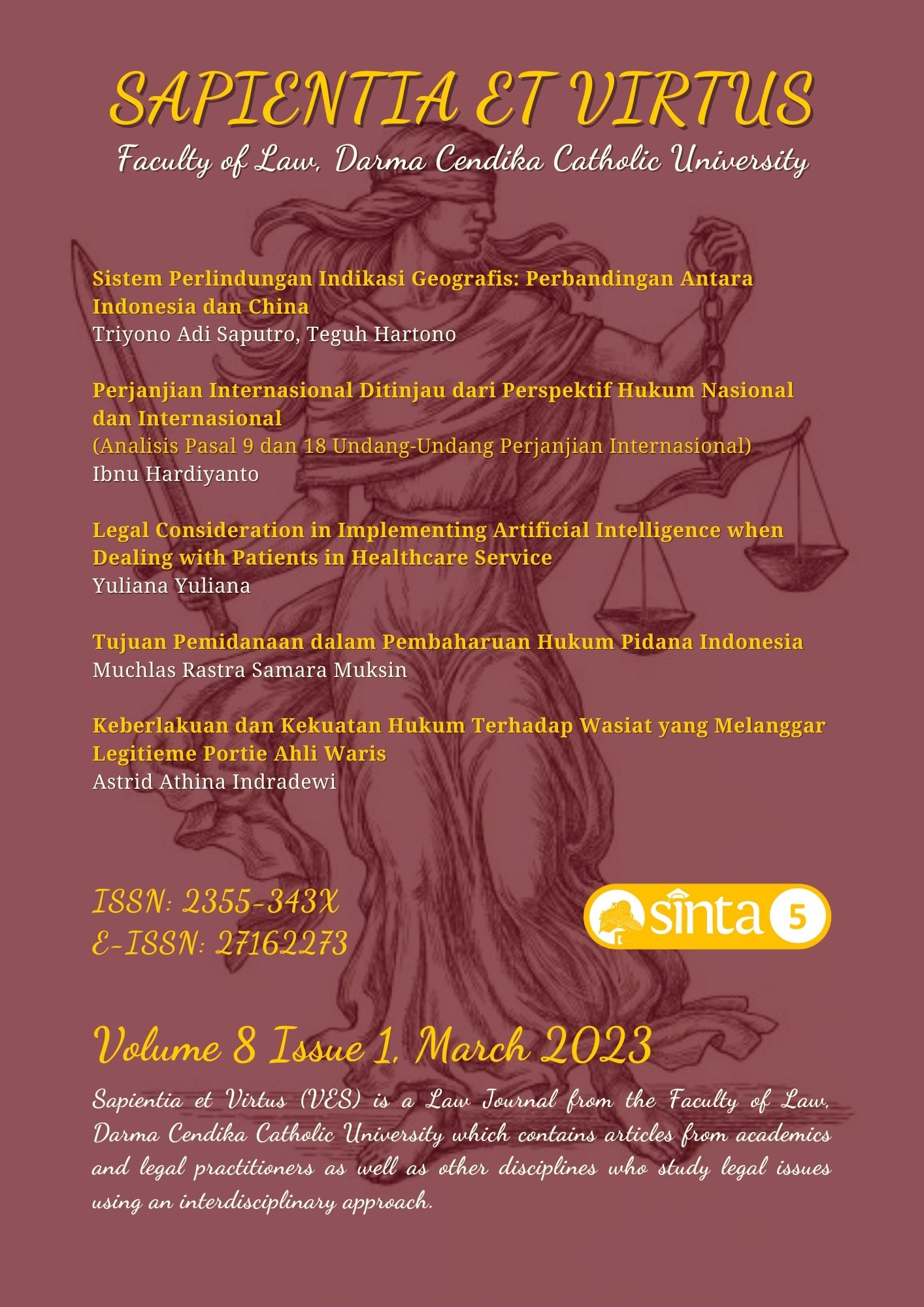 Copyright (c) 2023 Triyono Adi Saputro, Teguh Hartono
This work is licensed under a Creative Commons Attribution-NonCommercial-ShareAlike 4.0 International License.